In this article, the Lazy Leader takes a practical look at project schedule and cost estimation before explaining how to estimate project costs.
Project schedule and cost estimating are critical project management activities.
Among other things, the schedule tells the project manager how long it will take to complete the project (or any part of it.) It's also the basis for preparing cost and resource plans.
But the problem with estimating is this: when formulating plans at the beginning of a project, there is usually insufficient information to estimate with any degree of accuracy.
In this article, we take a practical look at project schedule and cost estimations before explaining how to estimate project costs. The project manager faces many demands to know how long the project will take and how much the project will cost. What is more, the project sponsor will expect the project manager to meet publicized delivery dates, regardless of their legitimacy.
Since this guide covers a lot of ground and is a long read, you may want to check out the table of contents for some quick jumping around.
Project Schedule and Cost Estimation
Project schedule and cost estimation is not straightforward.
So, what do you do?
Perhaps you stick a finger in the air and hope for the best? Or base your estimate on past performance and experience?
There can't be a crisis next week. My schedule is full. – Henry Kissinger
Maybe you hire consultants to tell you how much and how long? Or you could conduct a little market research and talk to other organizations that have done something similar in the recent past?
Are you trying to solve the wrong problem?
Many things will conspire against the project manager and lead to false hopes. For instance, overoptimistic expectations of executive management, poorly defined requirements, a weak business case, skipping or rushing the planning process and project initiation, or delays mobilizing the project team.
All of these things ultimately eat into the project schedule and introduce delay; delay not accounted for when publicizing the completion date too early.
The answer to resolving this situation is not in estimating techniques, albeit these are beneficial and should be used.
Rather, the answer is in your approach to project management and your relationship with stakeholders.
A little advice goes a long way
Above all else, maintain your integrity. Be open and honest, and only commit to what you know the organization can deliver.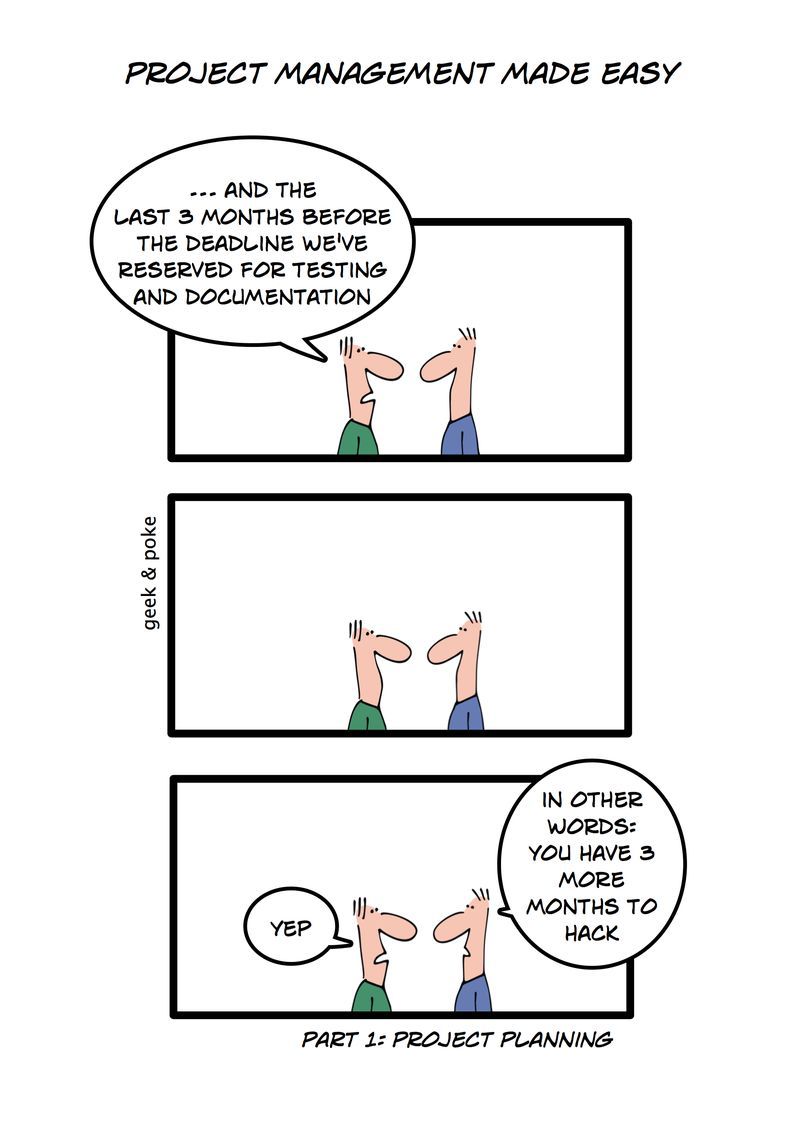 In other words, understand what aspects of benefit viability—time, cost, and scope—are important to your key stakeholders and break-down the project into manageable chunks.
That is, plan in summary for the whole project and in detail for the next stage. Mature businesses use a workable staged project process  framework.
Work With Your Stakeholders
Yes, I know this article is about project schedule and cost estimation. But get this wrong, and you'll waste a lot of time!
Thus, the project manager needs to show to his stakeholders that the level of uncertainty is always high with incomplete requirements and business case. Early efforts should focus on understanding the problem the project intends to solve, how this is to be addressed, what benefits are to be had, and if it all stacks up and is worth investment.
Therefore, time spent developing the initial business case—that is, having a quick look—and preparing broad estimates of time and cost for the project plus more detailed plans and estimates for the next stage will bear much fruit.
Progressively, with greater knowledge of the project, the accuracy of estimating  improves.
This is good. The business will have more control over what it is committing resources, won't set unrealistic expectations or overextend its resources.
How to Estimate Project Costs
Okay, so we know that project schedule and cost estimating starts with a reasonable understanding of what the project will deliver. This means determining the resources, effort, and costs for the project.
We also know that the plan will evolve, starting with the key business objectives, scope, and key deliverables, and culminating with the summary plan.
Start with the plan
An initial plan consists of:
the identification of the key deliverables (or products) and dependencies between these and other projects,
a breakdown of the project into manageable chunks based on the key deliverables and project stages,
a summary plan or schedule of the entire project, and
a detailed plan or schedule of the next stage that also includes costs and resource requirements.
Planning occurs (or should occur) like this:
Identification of the project's products: the Product Breakdown Structure.
Listing the resources needed to deliver each product.
Calculating the effort and costs associated with each product.
Setting time-scales for the project.
Project managers need to follow this sequence to produce a reliable project schedule. And they should always resist any pressure—usually from sponsors—to do these things in a different order.
So plan in summary for the entire project and in detail for the next stage. I may sound like a stuck record on this point, but it is so important, so don't bite off more than you can chew!
Use a staged project process framework and product-based planning approach to identify all the products the project needs to create.
Prepare your estimates
Your estimates should be based on the work scope defined in the Product Breakdown Structure, plus any relevant milestone events. Build your base estimate using a variety of estimating techniques — historical cost data, work distribution or standard products — and summarize using an estimating sheet.